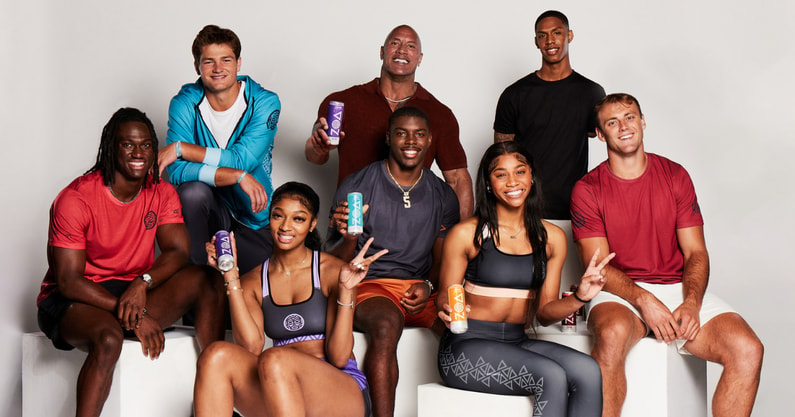 Dwayne "The Rock" Johnson was not able to profit off his NILrights as a defensive tackle at Miami in the 1990s.
Things have significantly changed since then. The former professional wrestler is now one of the most recognized and highest-paid actors in Hollywood. An owner of the XFL, he has his own Under Armour line.
The Rock also has his own energy drink, ZOA, which has entered the NIL world in a very big way. An annual program dubbed, "The Rock's Warriors," has signed NIL deals with seven college athletes. Georgia's Brock Bowers, Austin Peay's Hansel Enmanuel, Florida A&M's Amaya Gainer, Ohio State's Marvin Harrison Jr., Miami's Kamren Kinchens, North Carolina's Drake Maye and LSU's Angel Reese have all inked endorsement deals with the brand.
Each athlete was selected by The Rock. Everett Sports Management's Rachel Everett, Dan Everett and Jeff Hoffmancreated and procured the NIL campaign.
"Through this first-of-its-kind NIL expansion program, ZOA Energy will bring together some of the greatest college athletes of our time," The Rock said in a statement. "I know from experience the grit and hard work that's required of these college athletes to get the job done. Not just during their championship games or in the classrooms, but every day in the game of life. ZOA gives people that power, that unique energy to fuel themselves and fuel others around them – that's why I'm super pumped about uniting all of The Rock's Warriors under one roof.
"I personally selected these phenomenal individuals because of the energy, tenacity, and excitement they bring to the game. With a diverse set of stories and experiences, they're driven, hungry, talented and ready for ZOA to help fuel them to greatness."
Details of ZOA NIL campaign
As part of the agreements, the athletes will lead an upcoming marketing campaign for the energy drink and will release content across their social media platforms. "The Rock's Warriors" will support national and regional partnerships through the deal.
"NIL is a brave new world," ESM's Dan Everett told On3. "Working alongside disruptive and multifaceted brands can be a catalyst for groundbreaking work. For ESM Sports, procuring the right talent to accelerate awareness and consideration for ZOA was the goal. Combining seven of college athletic's biggest names with the stardom of The Rock is the single most defining moment in NIL history."
ZOA pieced together a loaded class of NIL talent. Reese has seen her national profile soar following LSU's national title, adding 3.6 million social media followers and signing NIL deals with brands like PlayStation and Starry.
"I'm pumped to be a part of such a unique group of athletes, and who better than The Rock to bring us together for a one-of-a-kind opportunity," Reese said. "ZOA is all about putting in the work, learning from your wins and losses, and empowering others, something I strive to do every day on and off the court, so it was a no-brainer to join the first class of The Rock's Warriors."
Harrison had 77 catches for 1,263 yards and 14 touchdowns in 2022. He's started to take advantage of his marketability, recently launching a memorabilia website and signing with Mark Wahlberg Chevrolet. Maye has become one of college football's most marketable names since last season. The quarterback wrapped up his rookie campaign throwing for 4,321 yards with 38 touchdowns and only seven interceptions. Touting a 66.2% completion percentage, he led the Tar Heels to an ACC title game appearance.
An Everett Sports Management client, Bowers has played a significant role in helping Georgia win the last two national title games. Name to the first-team All-SEC, first-team All-American and the John Mackey Award winner, he turned down deals from Georgia's Classic City Collective this winter. Instead, he's inked partnerships with companies like NOBULL and Dick's Sporting Goods.
Dominican Republic native and one-handed basketball sensation Hansel Enmanuel received approval for an O-1 visa in October, which gives him the ability to pursue NIL deals in the U.S. through his newfound work authorization. He has agreed to deals with adidas and Gatorade.
A safety, Kinchens has a $474,000 On3 NIL Valuation. A first-team All-America last season, he led the Hurricanes with 59 total tackles along with six interceptions, one fumble recovery and one forced fumble.
"It is the maturation of commercial NIL. ESM's ability to create, navigate and bring together these amazing NIL athletes for ZOA cannot be overstated," Hoffman told On3. "Equally as impressive is the ZOA team's ability to be brave, nimble and creative in the execution of such a tremendous activation. The Rock's Warriors is how high-profile, real NIL (commercial NIL) is done right."